Indians sitting far from Kashmir have romanticised Dal lake, Chasme Shahi and Shalimar Bagh for the longest time. A lot of people visited the charming city of lakes, until terror put a comma to all the travel plans and those of remembering the beautiful past. Flash-forward, Kashmir is opening up again, 4G is about to be restored in some areas and businesses are running amid Covid-19 restrictions. Terror talks are not new to this part of the country but what is new is some small businesses cropping up despite hardships and hitting national headlines.
One such small enterprise that is making a lot of news is a bridal fashion studio in Srinagar. Sitting amidst Lal Chowk, the city's famous square known for its political and strategic importance, Makeup And Slay Studio has become a sought after name in the city that is weathering restrictions of various kinds.
(A Makeup And Slay Studio bride)


Run by three young women – Hiba, Fozia and Tayba, the studio has put Srinagar on the map of striking bridal fashion. The studio, which takes care of local women's make-up and bridal ensembles came into being when the three entrepreneurial ladies realised the absence of a make-up studio in the city.
"Basically, ours was the first make-up studio in Kashmir. Back in 2017, we had a few make-up artists but there wasn't any studio here. So, we thought it would be a great idea if we came up with a studio that offers everything with just women working there," explains Hibba, who's one of its founder members.
"Initially, we started with just make-up and hair and then added clothing as well. Women feel more comfortable around us because it's very complex for a man to understand some basic women issues," adds Hibba.
So, what took this graduate from Kashmir University and an IAS aspirant to start a fashion business in Srinagar? "As women, we sort of knew our don'ts way before the dos. But then, we supported each other and tried to work things out. My mother and father were very supportive. Luckily, my mother studied fashion back in college days and that's what inspired me," claims Hibba, as she speaks in her immaculate English.
The trio has not let the turmoils and lockdowns bog down their business and are trying to keep up with the hard days, taking each day as it comes while swiftly changing the way Kashmiri brides shop for their wedding trousseau. At the same time they are battling challenges thrown up by people known to them who are often telling them that "this isn't what you should be doing."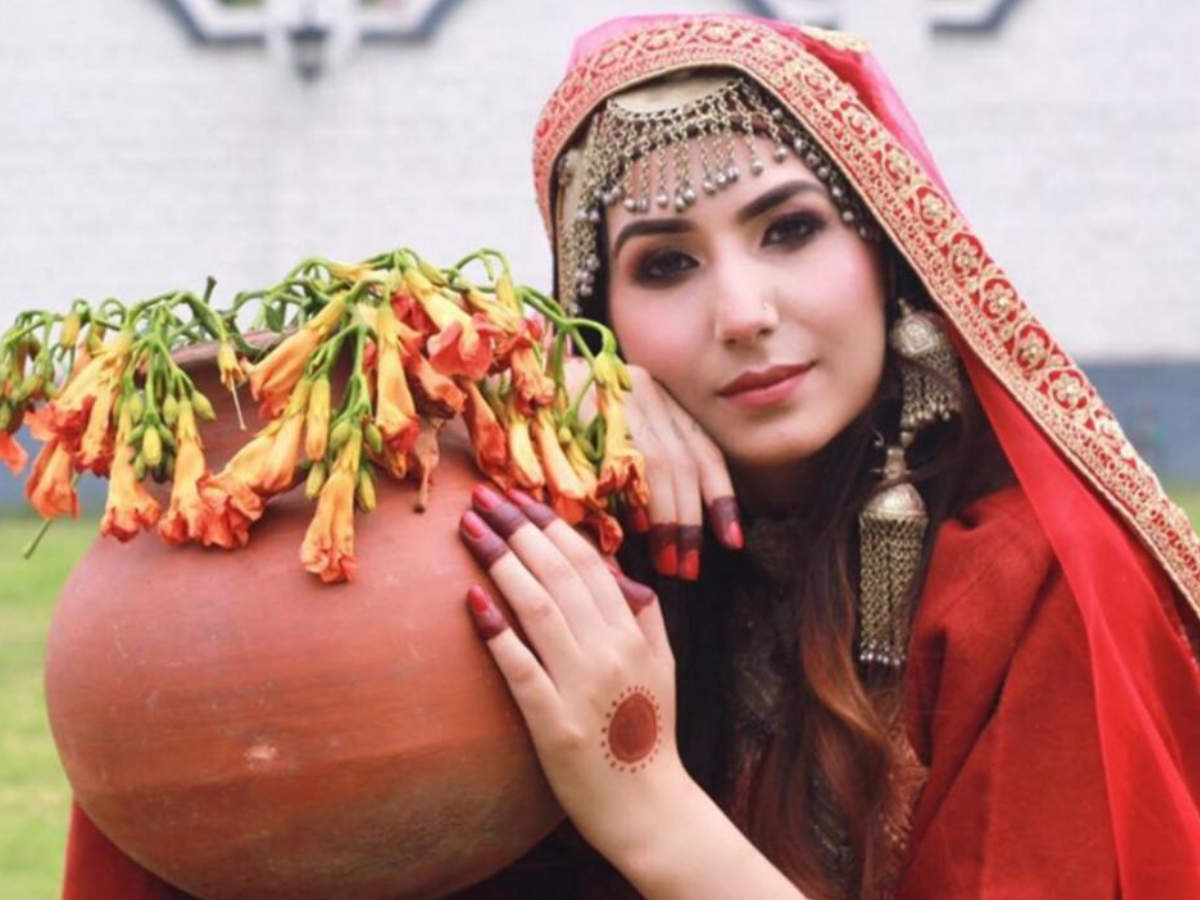 (A beautiful Kashmiri woman decked up by Makeup And Slay Studio)


The women behind the business feel that they have a better understanding of what Kashmiri women want as women understand women better. The trio have also taken it upon themselves to advocate body positivity. "There are different people with different body types and which is totally normal! So, we are here trying to normalise the Norms, helping women accept who they are because we've witnessed how women in Kashmir had to go outside Kashmir to shop for basic things because usually the "men" dominated shops showcased bridal outfits that didn't have different sizes and everyone had to adjust," states Hibba.
According to the fashion forward ladies, Kashmiri brides like what every other desi bride likes – the glam, the jewellery, the outfits! For a Kashmiri bride, everything should be perfect and eye-catching! Well, that sounds familiar, doesn't it and we are so glad to know that a distance of thousands of miles doesn't make a difference in the mindset of women who are ready for tomorrow.
The ladies want to open up a training academy "run by women for women" where they can teach, discuss make-up and fashion. Well, maybe they will be the harbingers of change that they have not foreseen, but we can sense. There will be hope for the women of Kashmir, when fellow women will uplift them.
We take leave of the trio, as they sign off after Hibba confesses that she would love to doll up Bollywood actress Katrina Kaif on her wedding day! Well, we are sure that day isn't far away, Hibba, Fozia and Tayba.
Thumb Photo:
(A Makeup And Slay Studio bride)


.(tagsToTranslate)makeup and slay studio(t)kashmiri wedding dress(t)kashmiri wedding(t)kashmiri makeup(t)kashmiri bride